Genesis Enclosure - Vertical Platform Lift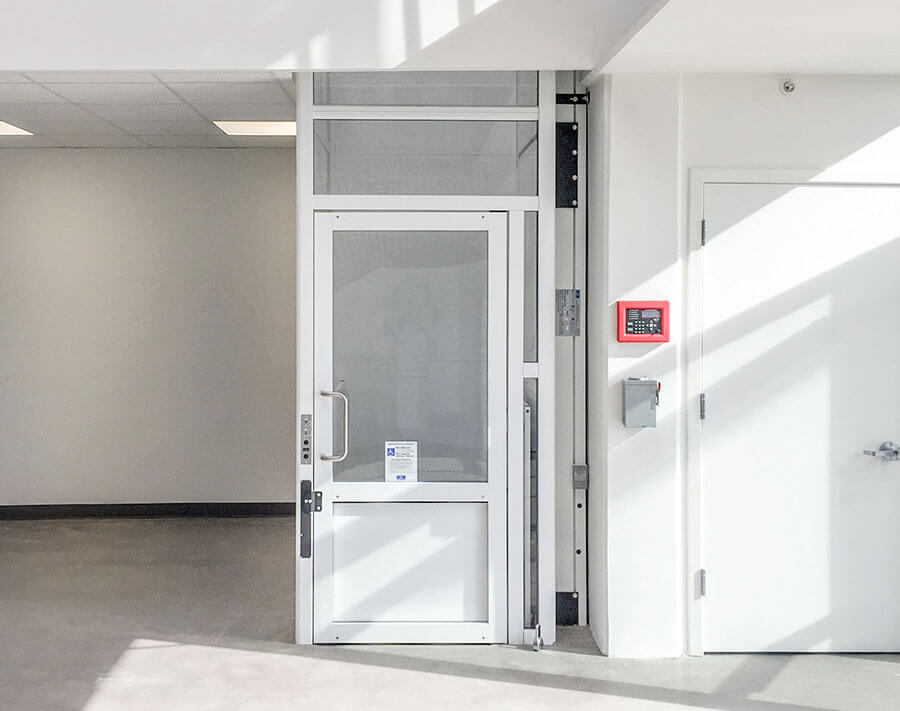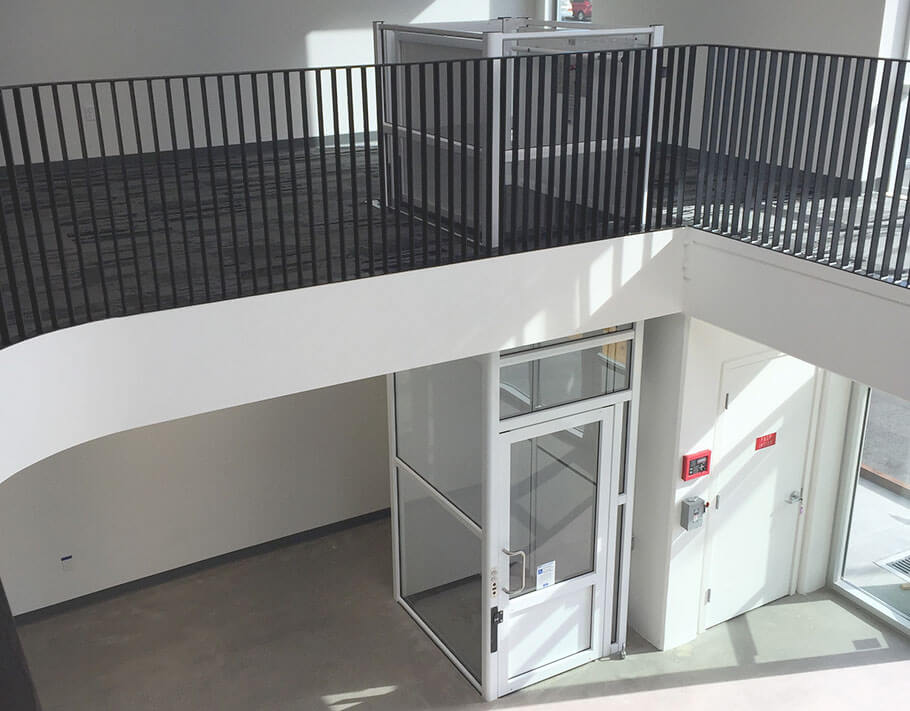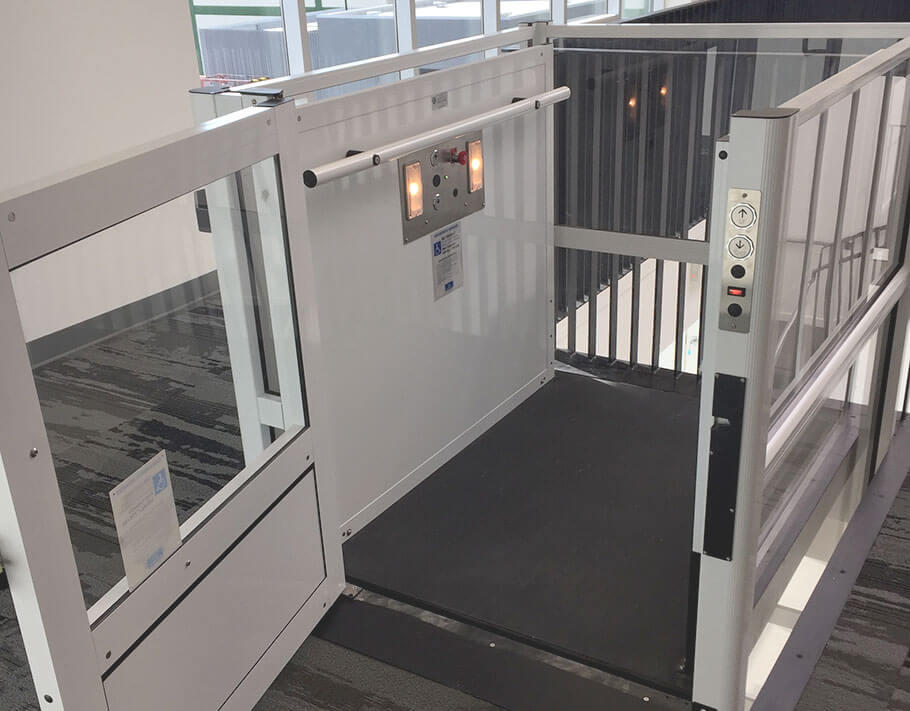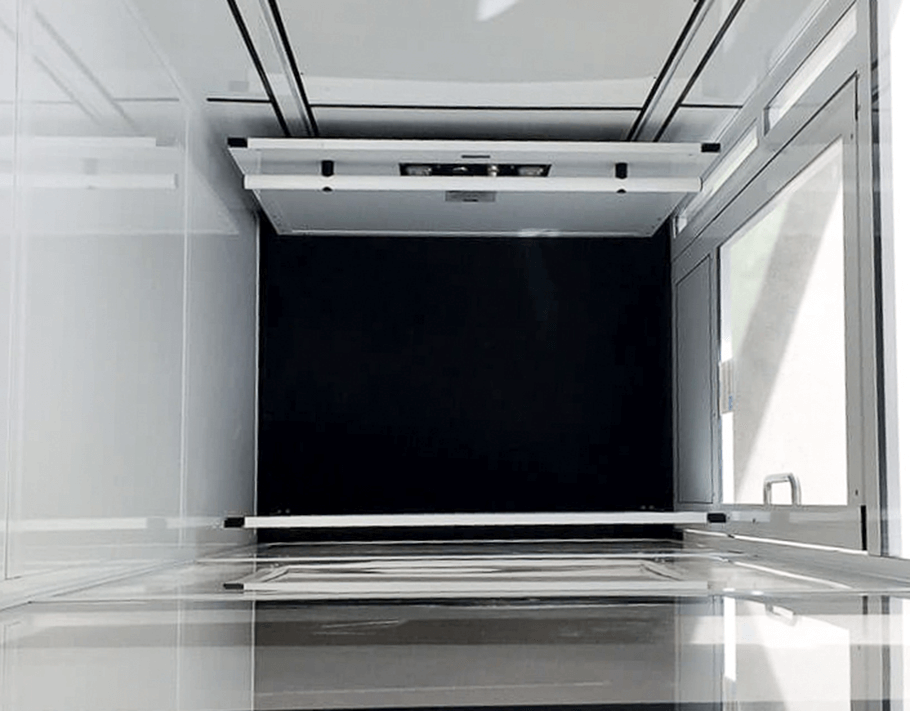 Genesis Enclosure Model
The Genesis Enclosure Model is a vertical platform wheelchair lift that can provide access to up to 4343mm (171"). This style of vertical lift is an easy and cost-effective accessibility solution for public buildings or private residences and is suitable for indoor or outdoor installations. The Genesis Enclosure has a lifting capacity of 340 kg (750lbs). The components of this Genesis Vertical Platform lift consist of a factory manufactured enclosure walls, with integrated doors and gates, a drive mast, passenger platform and easy to use call stations and platform controls. The Genesis can be customized with a variety of optional features to suit the needs of the user and building owner. The wall panels, doors and gates can be designed from an extensive variety of colors and finishes.
---
Main advantages
Modular

No shaft construction

No exposed fasteners

Aluminum enclosure

Tactile and illuminated controls

Easy grip offset "D" handles
---
More information can be found in the Downloads
Downloads
Genesis Enclosure Photo Gallery
---
The Genesis Enclosure Model wheelchair lift is equipped with many standard features. Some of these features are listed below. For a more extensive list of features contact your local Garaventa Lift Representative or refer to the Genesis Design and Planning Guide.
Enclosure Frame/Panels:

The frame is constructed of champagne colored anodized aluminum extrusions. The panels for the Enclosure Model are available in 16 gauge galvanized steel painted with fine textured Satin Grey finish.

Doors and Gates:

The standard configuration for this model is a full size Garaventa Lift style door at the lower landing. The upper landing may be fitted with a gate or full height door.

Offset D Handle:

The offset d handle is available on both Garaventa Lift style doors and gates.

Door Interlocks:

The Garaventa Lift Mechanical Interlock is the standard lock used for two stop enclosure lifts that are equipped with Garaventa Lift doors and gates. The interlock is activated by the movement of the platform, the lock is monitored by the safety circuit to ensure the door or gate is properly locked.

Drive System - A choice of two Drive Systems:

Leadscrew Drive with a 2 HP Motor.

Hydraulic Drive with a 3 HP Motor - Continuous Mains Power with Auxiliary Power System.

Lifting Height:

Seven different lifting heights to a maximum of 4343mm (171").

Call Stations:

The standard call station is frame mounted, key-less and operates with constant pressure rocker switches.

Platform Controls:

Consist of a directional rocker switch with an emergency stop/alarm switch and is key-less.

Finishes:

The standard finish is anodized champagne aluminum frames, with steel panels that are powder painted in Satin Grey (fine textured finish).

Manual Emergency Lowering - Hydraulic Model Only:

To lower the lift a knob can be pulled to manually open the valve and lower the platform.

Manually Emergency Lowering Hand wheel - Lead Screw Only:

A hand wheel is attached to the lift and is used to manually move the platform to the desired landing in case of a power outage.
---
A variety of optional features allow for extensive customization of the Genesis Enclosure Model. Highlights of some of the optional features and descriptions are listed below. For a more extensive list of options, contact your local Garaventa Lift Representative or refer to the Genesis Design and Planning Guide.
Full Time Battery Operation - Hydraulic Model Only:

For low usage applications, full time battery operation is available. The drive is powered by a 24VDC battery pack charged from the building mains power by an integrated automatic charger. Continuous mains power is required if the lift is equipped with a fan and ventilation system.

Finishes:

Finishes for the Genesis Enclosure model include the steel panels and aluminum extrusions to be painted from a large selection of RAL Colors. The Enclosure can be supplied with bronze tinted or clear Plexiglas panels or can be designed for laminated glass panels by others.

Custom Colors or Exotic Finishes:

Garaventa can offer custom color matching, Graphic Imaging and Exotic Finishes. The panels can also be supplied with wood finishes, Formica, architectural metals or any material not exceeding 1/2" in thickness.

Door and Gates:

As an option the door panels can be replaced with bronze tinted or clear Plexiglas or laminated glass by other. The kick plate of the door is always 16 gauge galvanized steel. The doors can also be painted from a variety of RAL or custom colors.

Garaventa Lift Power Door Operator:

The Garaventa Lift Power Door Operator (PDO) automatically opens the door/gate when the platform arrives at the landing. When the lift is at the landing, the passenger can press the call station switch or gently pull on the door or gate to activate the door opener. Power door operators are recommended if the lift has a ramp. Certain applications may limit the use of this operator. Consult your authorized Garaventa Lift Representative for which door operator is appropriate for your application.

Plexiglas Dome:

For outdoor applications, a bronze tinted Plexiglas dome can be added to the enclosure. This dome has a drip rail for rain and condensation.

Sloped Roof:

The Enclosure Model can be designed with a durable steel sloped roof. The roof is made for directional water run off or installations where a dome would not be appropriate for example against a building.

Fan and Ventilation System:

The fan and ventilation system consist of two exhaust fans, thermostatic control and a 12VDC battery backup. The fans circulate and completely replace the air in the enclosure every minute when temperature inside the enclosure exceeds 85.
Specifications
| | |
| --- | --- |
| Rated Load: | Standard 750 lbs (340 kg) with a safety factor of 5 |
| Speed: | Leadscrew - 3 meters (10 ft) per minute at full load | Hydraulic - 5.2 meters (17 ft) per minute at full load |
| Travel Range: | Enclosure goes to 20ft |
| Safety Features: | Garaventa doors and gates equipped with Garaventa interlocks and internal closers | Sturdy 16 gauge galvanized steel platform side walls 1070mm (42 1/8") | Continuous pressure directional control switches and illuminated and audible emergency stop switch | Full length grab rail on platform side wall panel |
| Leadscrew Drive System: | Motor: 2 HP (1750 RPM) | Motor Drive Type: ACME screw (1" diameter) | Mains Supply: North American Models: 120 VAC on a dedicated 20 amp circuit, International Models: 208-240 VAC on a dedicated 16 amp circuit |
| Hydraulic Drive System: | 3 HP DC (2.2 KW) complete with auxiliary power system | Motor Drive Type: Chained Hydraulic (Dual 5/8" ANSI 50 chains) | Mains Supply: North American Models 120 VAC on a dedicated 15 amp circuit, International Models 208-240 VAC on a dedicated 16 amp circuit |
| Controls: | Keyless Controls (No key required for call stations and platform controls) | Directional Controls - Continuous pressure switches | Control Voltage: 24 VDC |
| Power Requirements: | 120 VAC single phase | Optional 208-240 VAC single phase |
| Popular Options: | Power Door Operators (ANSI/ BHMA A156.19 compliant) | Custom platform sizes available | Illuminated and tactile constant pressure directional buttons | Arrival gong and digital floor display | Steel, plexiglas or glass enclosure panels | Choice of RAL colors | Autodialer phone (ADA compliant) | Keyed operation | Custom applications (Consult Garaventa Lift) | Battery powered emergency lowering (Leadscrew drive only) | Full time battery operation ***suitable for low use applications ONLY (Hydraulic drive) | Fan and ventilation system with thermostatic controls - requires continuous mains power |
| Warranty: | 2 year parts warranty, labour is tied to a mandatory planned maintenance program |
---